On Sale
TOMEI EXPREME Ti EXHAUST SYSTEM GTR R32, R33, R34
TOMEI EXPREME Ti EXHAUST SYSTEM GTR R32, R33, R34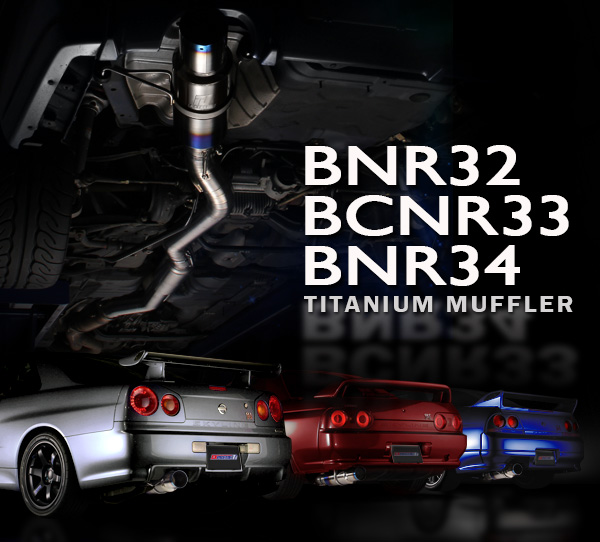 The Ultimate High-Performance Muffler 
for the 2nd Generation GT-R

 

High quality production, for true competition use without compromise. Only the best Titanium grade materials are used. From the special racing layout design, made as straight as possible, to the high flow silencer. We have poured our knowledge into it all. When you see our EXPREME Ti system, you can then understand that ours is unrivaled in terms of performance and price.

 
BNR32
 
BCNR33
 
BNR34
 

BNR32

Part Number :TB6090-NS05A
(Previous P/N 440007)

BCNR33

Part Number :TB6090-NS05B
(Previous P/N 440008)

 

BNR34

Part Number :TB6090-NS05C
(Previous P/N 440009)

※FOR OFF ROAD USE ONLY.

 

 

 
COMPARISON TO STOCK

Designed for results, not too thick or thin. For best overall power gains, weight reductions and value for money.

 

▲BNR32 STD

 

BNR32

BCNR33

BNR34

TOMEI

STD

TOMEI

STD

TOMEI

STD

 MATERIAL

 TITANIUM

IRON

 TITANIUM

IRON

 TITANIUM

IRON

 MAIN PIPE DIAMETER

Φ89.1

Φ70.0

Φ89.1

Φ68-63.5mm

Φ89.1

Φ68-63.5mm

 MAIN PIPE THICKNESS

1mm

1.5mm

1mm

1.5mm

1mm

1.5mm

 SILENCER DIAMETER

Φ152

-

Φ152

-

Φ152

-

 SILENCER THICKNESS

1mm

-

1mm

-

1mm

-

 EXIT DIAMETER

Φ115

(92-70mm)

Φ115

(80-72mm)×2

Φ115

80mm×2

 EXIT THICKNESS

1mm

-

1mm

-

1mm

-

 FLANGE THICKNESS

8.0mm

8.0mm

8.0mm

8.0mm

8.0mm

8.0mm

 WEIGHT

7.35kg

19.5kg

7.15kg

18.9kg

7.05kg

18.0kg

 

When aiming for true performance efficiency, we had chosen to design the exhaust with the least amount of bends as possible. Just like the true purpose built race cars, in a racing layout design, yet to still comply with the stock body design so it can be fitted to any street used vehicles.

 
 

A : MAIN SILENCER/ TAIL END

Compared with the stock design, our design is single piping all the way for max weight reduction. We have also focused on the design of the muffler to produce the best exhaust sound without compromising performance.

The pipe diameter was chosen for optimum exhaust flow efficiency. For performance use in mind and weigh reduction. Thus the slide joints was made instead of using the conventional flange and gasket design.

C : SUB SILENCER

This design was adopted for maximum exhaust flow efficiency without comprimising the quality of the structure and sound.

○

Designed For True Performance Use.

 

・Lightweight (For total balance)
・Optimum Exhaust Flow (To extract the engines full potential, Will benefit greatly with additonal tuning.)

 
 

This is even larger than the mid section, to help reduce noise, smog & exhaust emissions. All to comply with street use regulations. The internals are complex and very heavy which greatly hinders performance.

Torque quality and sound are restricted. The piping layout is designed mainly to help reduce thermal damage to the surrounding parts.

A pre-muffler setup that helps reduces exhaust noise. This further assists the purpose of the main muffler.

| | |
| --- | --- |
| × | Inadequate For Real Performance Use. |
|   | ・Heavy ・Poor Exhaust Efficiency |

 
 

 

| | | |
| --- | --- | --- |
| The conventional style flange is not used to help reduce weight even further. The use of the springs and clamps eliminates the need for gaskets as well. | | The long fiber wool threads were adopted for the silencer. This type has proven to last longer than the traditional fiberglass materials even over a longer period of time with extensive high temperature exposure both at high and low pressures. |

 

| | | |
| --- | --- | --- |
| The design targets were strictly for performance use and for the best value for money for our end users. | | Only the racing layout muffler design in full Titanium can produce the exhilarating race sound that is second to none. |

 
 KIT CONTENTS

MAIN PIPE A (1)
MAIN PIPE B (1)
SILENCER ASSY (1)
GASKET (1)
FLANGE NUT M10 (2)
CLAMP BAND (2)
SPRING (4)
SILENCER BAND (1)
SILENCER BAND RUBBER (1)
FLANGE NUT M8 (2)
FLANGE BOLT M8 (1)
SOUND REDUCER ver.2 (1)

 
 
 

Additional bolt holes may be required when using the sound reducer ver.2 .
Click here for details.
---